Alli's New Ipad
Washington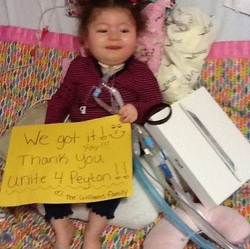 June 2012
Alli was born in January of 2011, and was diagnosed with Spinal Muscular Atrophy at 2 weeks old. She is currently 100% vent dependent, and over the past summer was in the PICU for 4 months due to respiratory failure. In despite of it all, "Alli is an amazing child, she is so happy and out going. Everyone that meets her falls in love with her. She loves Elmo and enjoys watching her elmo Dvd's." (according to her mother, Nicole)

The Unite 4 Peyton organization is so honored to be able to give this gift to Alli and her family. The doors that an IPAD will open for Alli, is something that many of us take for granted.

We wish the Best to Alli in the future and can't wait for the updates in the future.
---